CORRALA, CORRALÓN. SPACES FOR CREATION AND MATTER TO CONSTRUCT IDENTITY IN SEVILLE'S HISTORIC DISTRICT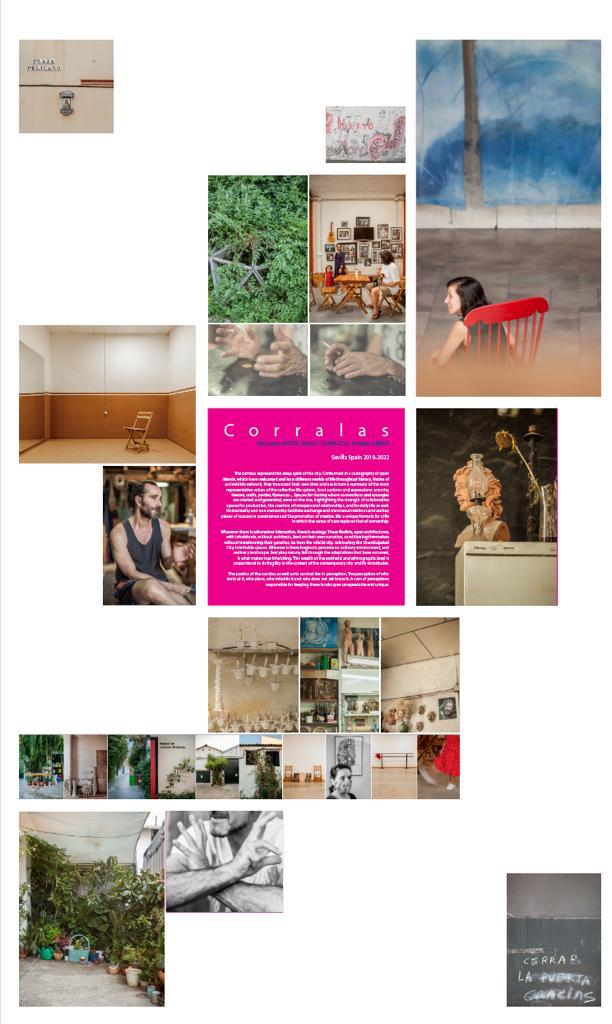 Macarena Gross Ariza
Dra. Reyes Abad Flores
Dra. María Carrascal
The corralas/ corralones [multifamily housing and workshops around a central patio], spaces for creation, key pieces of urban language and collective identity in Seville. Possibilities of adaptation and protection as symbolic heritage
Spread throughout the city, the corralas/ corralones[1] are a clear and functional element of identity as an essential piece of Sevilla´s urban language, that serve as a model for the study and knowledge of the local cultural production and its social implications, as well as for research of the urban question.
This concept of corrala has also been carried out in contemporary times to other types of fundamentally industrial spaces, where other species of corralas are constituted but with a less material sense of identity and which does not correspond to the same typology of house patio. Flexible spaces that in contemporary times, since the second half of the 20th century, have been absolutely ideal for creative activities and co-creation.
Those physical places of ordinary appearance, hidden behind the modern conception of landscape, like islands of silence, and shaped by the communities who inhabit them, who with their common actions, habits, traditions and encounters (that is, all the non-commercial relations that provide identity to a social group), define the territory.
These spaces constitute Ethnological Heritage in Danger. Given the private nature of these places and the continuous threat of disappearance conditioned by real estate pressures and other economic factors, this work aims to understand, from a historical and territorial perspective, the urban, anthropological, sociological and ecological dimension of these sites in order to consolidate a complete picture of their significance and to guarantee the survival of these unique and dynamic spaces of enormous social, cultural and urban value.
In order to justify this phenomenological study of the corralas, the specific case of "El Pelicano" has been chosen due to its popularity or prominence in the collective imagination and its impact as an urban mark. Interviews and a photographic work are main tools for this work. In addition to the documentation already written by other authors, the field work, through interviews and a photographic work, will be the fundamental tool for the development of this work.
[1] Corral, corrala, corralón, hereinafter any of these meanings will refer to the same concept. 
La tranquilidad habitual del campo parece trasladada a la ciudad. El silencio es ahora común en ambos lugares. Un silencio que resuena incómodo, a veces ajeno, pero necesario. Ya lo decía San Ignacio de Loyola, "en momentos de crisis, quietud". La quietud, es el silencio del cuerpo.
Mientras, la naturaleza se apropia del paisaje urbano, creciendo sin límites, reclamando atención, un lugar, cuidados. Acotada o libre, finalmente asoma con la fuerza desafiante de sus finos tallos. Refugios de diversidad, como diría Clement en el Tercer Paisaje. Los valores intangibles de este nuevo paisaje son infinitos y en ocasiones suponen un viaje a lo más íntimo el ser humano, su memoria, sus deseos, sus emociones, su identidad.
"Todo era un clamor de corazones y miradas. Y el aire estaba lleno de lejanías, distancias, barrios, pueblos, riberas y llanuras de espigas y amapolas." [1]
Quisiera imaginar un futuro rico en tiempo. He saboreado el lujo que significa poder disponerlo. ¿Qué prisa hay? Es el momento de detenerse y hacer inventario. A cada tiempo, un paisaje. Construído, deconstruído, reconstruído. Un paisaje silencioso, simplicidad elegante, donde la naturaleza es protagonista, la presencia humana relegada al corazón y la tecnología al servicio de la Tierra y de la humanidad.
Comencemos por los alimentos para combatir el cambio, diría Satish Kumar en su libro ¿Turistas o peregrinos? "Un peregrino es alguien que percibe la vida como un viaje sagrado, que ve la Tierra como un hogar sagrado, que interpreta el universo como un proceso".
Cada día, un poco de silencio, trabajar con las manos y decir la verdad.
"The usual tranquility of the countryside seems to have been transferred to the city. Silence is now common in both places. A silence that sounds uncomfortable, sometimes alien, but necessary. As Saint Ignatius of Loyola said, 'in moments of crisis, stillness'.
Stillness is the silence of the body. Meanwhile, nature takes over the urban landscape, growing without limits, demanding attention, a place, care. Bounded or free, it finally appears with the defiant force of its fine stems. Shelters of diversity, as Clement would say in ' The Third Landscape'. The intangible values of this new landscape are infinite and sometimes they imply a journey to the most intimate part of the human being, his memory, his desires, his emotions, his identity.
'Everything was a clamor of hearts and looks. And the air was full of distances, neighborhoods, villages, banks and plains of spikes and poppies' [1]
I would like to imagine a future rich in time. I've tasted the luxury of being able to arrange it. What's the hurry? It's time to stop and take stock. To every age, a landscape. Built, deconstructed, rebuilt. A silent landscape, elegant simplicity, like perennial wisdom, where nature is the protagonist, the human presence is relegated to the heart and technology is at the service of the Earth and humanity.
Let's start with food to combat change, as Satish Kumar would say in his book 'Tourists or Pilgrims': «A pilgrim is someone who sees life as a sacred journey, who sees the Earth as a sacred home, who sees the universe as a process".
«Every day, work with your hands and tell the truth.»
---
[1] Joaquín Romero Murube: Silencios de Andalucía (p. 241)
Cuadernos de investigación urbanística Ci[ur]129. Universidad politécnica. ETSA Madrid
Seminario internacional Paisajes culturales de la sal artesanal en España e Iberoamérica. Estrategias e instrumentos para la planificación y gestión del patrimonio cultural.
Salinas. Paisaje de silencio Salt flats. A silent landscape
DESCRIPTORES: Salinas / Paisaje / Fotografía / Arquitectura/ Estética / Andalucía
KEY WORDS: Salt flats / Landscape / Photography / Architecture/ Andalusia
RESUMEN:
La serie fotográfica Salinas. Paisajes de silencio presentada en el Seminario internacional Paisajes de la sal(UPM 2019) se inserta en un proyecto de investigación estética que busca retratar espacios pensados, diseñados para/desde el silencio dentro de los límites de Andalucía. Este conjunto de paisajes evocadores y cautos, estimula una percepción ajena a ciertos estereotipos culturales y estéticos vinculados, fundamentalmente, a la tradición urbana.
En el búsqueda intuitiva de estos espacios imprecisos, las salinas se convierten en objetivo clave por su fórmula paisajística natural, artesanal y su plástica cambiante. Las imágenes generan una ficción, un lugar idealizado y necesario donde la naturaleza es protagonista y la presencia humana relegada. Siguiendo un juego de sinestesias, una serie de objetos interactúan con el medio, evocando un sonido, un sabor, un estado, una historia y una luz. La serie está realizada por completo en las salinas de Bonanza de Sanlúcar de Barrameda (Cádiz).
ABSTRACT:
The photographic serie Salt flats. A silent landscape was presented in the International Seminary Cultural Landscapes of Artisan Salt (UPM 2019) as part of an artistic research proyect about a range of scenaries and territories whitin the limits of Andalusia that embodies the aestehtic values of silence. These evocative and guarded landscapes bring a perspective that differs from the stereotyped views of the local traditions and cultural identity.
The beauty of the salt flats soon became an inspiration and a main focus of the work. The mix of natural landscape, artisanal production and the changing appearance of plastic elements generates a fiction and an idealistic vision of a silent landscape, a particular concept of photography that emphazises the beauty of nature and relegates the human presence to a second place. A number of objects related to the popular culture and the artisanal production of salt interact with the enviroment and the artistic intentionality is build around a shared body of synesthesia: a sound, a light, a taste, a story, an emotion… The photographic serie was made in the historic salt flats of Sanlúcar de Barrameda (Cádiz).
* Dra. Reyes Abad Flores, Licenciada en Historia del Arte por la Universidad de Sevilla, Doctorado en Tecnología de la Construcción: Investigación, Desarrollo e Innovación por la Universidad de Sevilla (ETSIE) y Postgrado en Gestión de Patrocinio Cultural y Mecenazgo por la Universitat Oberta de Catalunya (UOC)
Email de contacto: asaltocultural@gmail.com
*Macarena Gross Ariza, Licenciada en Administración y Dirección de Empresas por la Universidad Pontificia de Comilas (ICADE, E-2), Master en fotografía professional por EFTI, Madrid, Graduada en Interiorismo por la Universidad BIOS de Montevideo y Máster en Ciudad y Arquitectura Sostenible por la Escuela Técnica Superior de Arquitectura de Sevilla (ETSAS).
Email de contacto: macarenagross@gmail.com
ORCID: http://orcid.org/0000-0001-86587-0871 (Reyes Abad y Macarena Gross)